Under our full-fledged test environment, we make a study of new materials with an aim to proposing new products that make the maximum use of the potential of raw materials, fully utilizing our distinguished quality control know-how. We are ready to offer solutions for a variety of requirements, such as preparation of a trial sample, production of equipment and the establishment of a test method.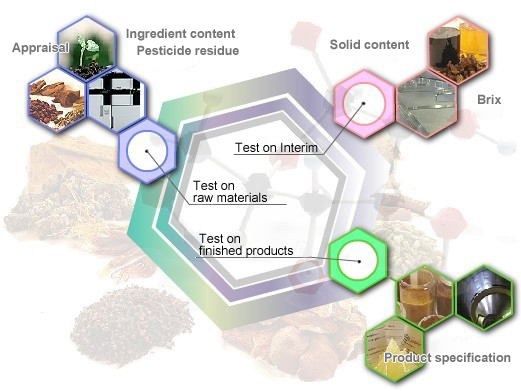 It is our belief that, in order to produce high-quality products, a thorough quality control system and outstanding product development capabilities are essential in addition to high-quality raw materials and start-of-the-art equipment.

We believe that a consistent quality is materialized only when a thorough quality control system is put into practice. The incoming inspection on raw materials, interim test at the production process and outgoing inspection are implemented in a consistent and integrated manner.

Since the raw materials we handle are natural products, the quality and the amount of ingredients are not always constant. This being the case, a speedy and timely judgment is sometimes required aside from the daily quality control. We have committed ourselves to making a right and timely judgment under any circumstances. We have been making continued efforts to develop human resources and to establish a comprehensive test environment, for our relentless pursuit of unrivaled results.